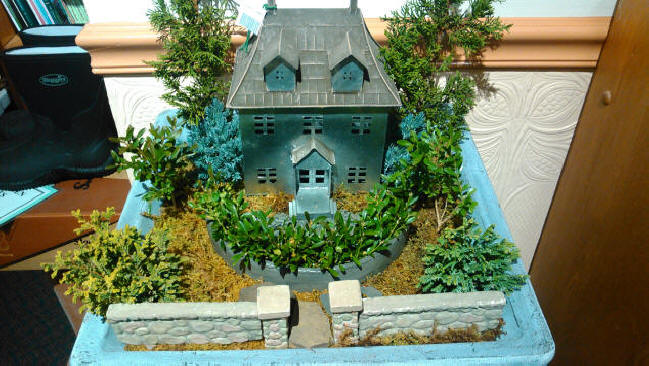 Our greatly enlarged gift shop is open all year For all kinds of gift giving needs - whether you want a lovely hand cast sundial for somebody very special, or a small gift to say "thank you" to a school teacher; we've got the unique range and quality to make everyone happy.

Gifts for Gardeners:
Watering Cans

Garden Wall Plaques

Sun Dials Pedestals ~ English Trugs

Solid Bronze Garden Faucets ~ Hose Guides

Weather Vanes and Stands

Wind Chimes ~ Door Bells

Thermometers ~Soil Testing Kits

Hand-Carved Garden Stones: we can custom design stones for you!

Plant supports: Trellises and Rose Arbors

Gardening tools of all shapes and descriptions - Felco - Rolcut - all the best !

Garden Gloves ~Boot cleaners ~ Key Keepers

Statuary : Lions - Gargoyles - Animals - Fountains - Hedgehogs - Pigs

Wrought Iron and Brass Hooks and Hangers of all descriptions

English Hanging Baskets and Window Baskets Hayracks Corner racks

Pots and Planters all shapes and sizes

Hose Guards ~ Baskets

Gardening Books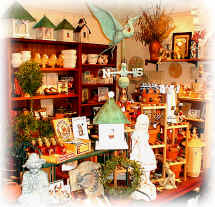 Gifts For Wildlife Lovers:

We take pride in having a wonderful array of unique gifts for the wildlife enthusiast. Birds, owls, bats, humming birds, butterflies - we cater to them all ! Some great books too!

Nesting Boxes ~ Winter Roosting Boxes ~ Bird Baths and heaters - Pond Supplies- Pond Heaters
Bird feeders and houses; every description and price range and even some with thatched roofs!

Gifts for the Home:
Wall plaques ~ Candlesticks ~ Old Fashioned Cast Iron Door Stops

Our aged garden containers can look great inside too.

Table Top Water Gardens ~ Planters ~ Ivy Topiaries -

All kinds of Pots - Mugs - jugs - Paperweights - Wall decorations

Gifts For Children

We have some superb garden tools for children.......

Children's gardening gloves

Nature kits. Some great books ~A range of craft kits ~ Sets of hand tools that will last .